Well Food in Hoang Cau Street
Hoang Cau street, ha noi vietnam is not too long and situated between De La Thanh street and Thai Ha street but is a gathering place of many eateries from all parts of  vietnam
Fish Noodle Soup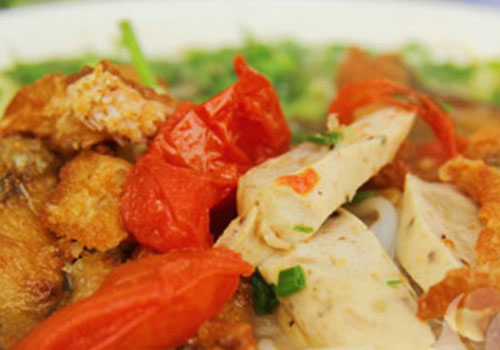 The fish noodle soup is always crowded of customers not only because of reasonable price but also the quality and good attitude of its shopkeeper.
Dishes are attractively prepared as a colorful and lively picture. Fresh fish is well prepared, sliced into pieces, marinated with spices and then dried until yellow.
A bowl of fish noodle soup is a harmonic picture with white color of noodles, yellow of dried fish, red of tomato and green of onion and dill.
When customers order, the shopkeeper picks hot yellow pieces of fish and drops them into the bowl, added with green onion, dill, tomato and hot broth. The price per a bowl costs VND 25,000, besides you can order ear rolls at the price of VND 5,000.
Relate: Go to danang vietnam have so many delicous food.
Mekong Delta goby fish hot pot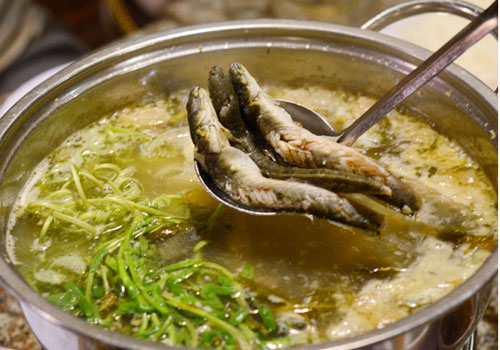 There are a number of "migrated" southern restaurants on Hoang Cau street but one of most tasty dishes is goby fish hot pot. This dish is a specialty in Mekong Delta region and described with salty, sweet and spicy flavors.
Goby fish hot pot with the sour flavor of lá giang literally "river leaf."
Diners will recognize the special sour flavor of river leaves, little bitterness of goby bile and bitter vegetables of Mekong Delta region. Vegetables here are very fresh and hygienic.
It costs VND 330,000/ goby fish hot pot.
Noodles and Fried Tofu
The restaurant is situated at a lane of Hoang Cau but is crowded with popular dishes such as noodles with grilled meat balls, fried fermented rolls, etc. Unlike other eateries, diners here witness chefs prepare all steps of a food.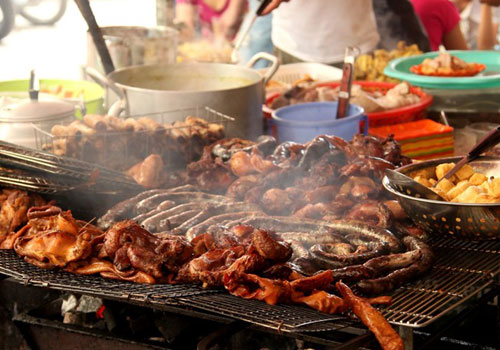 Grilled dishes on charcoal fire
In addition, the restaurant is known for quick service and eye-catching food preparation. A full plate of noodles and fried tofu costs VND 80,000/ 2 persons.