Hanoi Tourism Posters Appear in Tokyo Subway! Exciting!
Over 1,000 posters introducing images of Vietnam's capital is pasted around cabins and 24 electronic tables on subways in Japan.
Related: Com to Hanoi in winter is the best time to visit vietnam
Implementing the advertising tourism project between two cities of Hanoi and Tokyo, Department of Culture, Sports and Tourism in Hanoi launched to promote Hanoi tourism in the subway system of Tokyo for two months: September and October in 2014.
Related: the hanoi opera house  stands as the architectural, cultural and political symbol of the 1000 year old Capital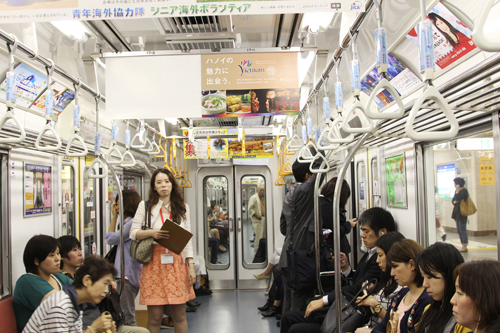 Advertising Hanoi tourism on the Tokyo subway cabins
The cost of printing posters for promoting Hanoi tourism in Tokyo is estimated 3 VND billion and is entirely supported by Tokyo. Hanoi will also promote tourism images of Tokyo on information systems and electronic tables by the Department of Management in January and February in 2015.
The tourism project is an initiative of the Council for Promotion of Tourism of Asia (CPTA) with 8 city members of Hanoi, Tokyo, Kuala Lumpur, Jakartar, New Delhi, Bangkok, Taipei and Seoul. In the future, Hanoi will continue promotional activities with the other city members with the aim of promoting tourism in Hanoi in particular and Vietnam in general.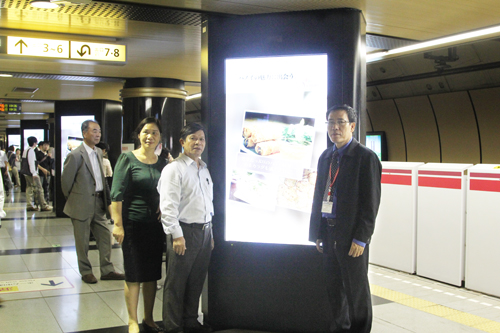 The delegation of Hanoi is doing research for the advertising content of Hanoi tourism at Roppogi subway station – Tokyo.
If you wanna travel to Vetnam but don't know anythings about Vietnam travel, you can look at in this topic to see things to do in vietnam. It's really useful